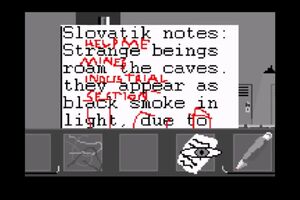 The Note is an object that can be found in the game Killswitch.
~ The Note can be found in a drawer within a Slovatik office, presumably having been stored there due to the bat infestation encountered later on.
~The Note is a printed piece of paper that describe the observation of a weird figure (possibly Ghast) in the caves of the mine. It is the note to the Slovatik Mine Corporation.
~If you drag the Red Pen over The Note you will write a help message written in red ink.
Ad blocker interference detected!
Wikia is a free-to-use site that makes money from advertising. We have a modified experience for viewers using ad blockers

Wikia is not accessible if you've made further modifications. Remove the custom ad blocker rule(s) and the page will load as expected.